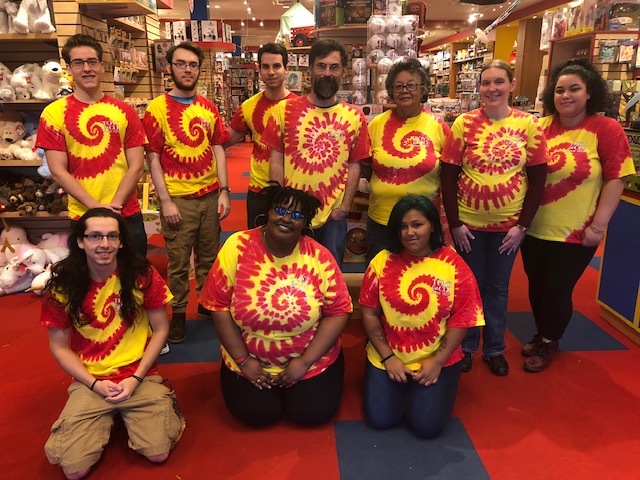 A visit to Toys & Co. is a magical experience any time of year, but even more so during the holiday season. There's nothing more heart-warming than seeing children's faces light up with joy when they hug a beautiful doll or discover an exciting new Lego set. At Toys & Co. there are treasures around every corner, fun games to educational toys and of course, plenty of traditional favorites.
One of the best things about Toys & Co. is that unlike most stores where parents spend their time saying, "Don't touch that," or "Put that down," in this place kids are welcome to play and explore. Samples of toys are on display to let you try them out, a train table is set up and always surrounded by children and a dollhouse just begs for someone to rearrange its furniture.
The ability to play in the store and truly experience the toys is just part of the personal experience that sets Toys & Co. apart from other stores. This family-owned company built its flagship store in Greensboro more than 40 years ago, and from the very beginning they were dedicated to product quality and customer service. The Thruway location, which opened in 2014, carries on that tradition. The staff is always eager to help and ready with recommendations for finding just the right toy for the child you're shopping for, no matter what their age or toy preference.
Toys & Co. also goes above and beyond with customer service offerings. Free gift wrapping is offered year-round, and there are special benefits for customers as well. The Birthday Club allows parents to sign kids up and two weeks before the birthday they will receive a coupon for 15% off the entire purchase for one shopping visit. The Carousel Club is a rewards program with a stamped card. For every $20 purchase you get a stamp on the card, and after you collect 12 stamps you receive $20 off your next purchase.
A new program Toys & Co. has started is the Birthday Basket, which makes shopping easier for friends and family. The child is able to come into the store about 2 weeks before their birthday to pick out any items they want to put them in a basket. Anyone can shop out of that baskets, and discounts are offered to grandparents, parents and friends. "It's a great way to know that the gift you're giving is something the child wants," says April Otto, store manager.
With Christmas just around the corner the toy shopping season is in full swing, and Toys & Co. is ready with some special promotions. The Christmas catalog was recently mailed to all birthday club members with a 25% off coupon good for any one item through December 16, and during the week of Thanksgiving the store is offering double stamps all week long. It's a great time to come in and pick up some of this season's hottest toys, such as the Rock and Roll Rainbow Piano, or Otrio, the multi-level tic-tac-toe game that has been really popular.
Get your shopping done early and have some fun while you're there with a visit to Toys & Co.