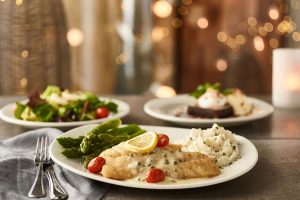 The Bonefish Grill may be nationally known for its casual elegance and superb food, but at the Thruway Center location you'll be treated with personalized service and a friendly welcome that make this restaurant feel like the local treasure it is. From seafood specialties to juicy steaks, fish tacos, fish & chips or even an all-American burger, the menu provides plenty of options for whatever you're craving. You'll be served by an Angler who is ready to guide you on an "open sea excursion" to help you choose the best fish to fit your taste. They're trained to navigate you through your entire dining experience, from savory start to sweet finish.
Whether you're a regular customer or someone dining for the first time, you'll be treated with personalized service to make sure you enjoy your entire experience. "We're lucky that having been at Thruway Center for 15 years, we have a lot of regular customers," said Jennifer Wright, managing partner. "There are plenty of people we see once a week or once a month, and it's always fun to catch up with them and introduce them to any new menu items we might be offering."
Located at the front of Thruway Center, right by Stratford Road, is also great for visibility and attracting new customers. "It's always nice to get people in who haven't been before, and share the Bonefish Grill experience with them," Jennifer said.
Bonefish Grill enjoys being a part of the greater community, whether that's through networking with local businesses to do private dining events or donating to nonprofit organizations to help support the community. "We're always glad to help out in our community, and try to do as many things as we can throughout the year," Jennifer said.
Bonefish Grill is a great place for a night out during the week or for celebrating a special occasion. The private dining room is available for special events such as birthday parties, showers or rehearsal dinners. "We do what we can to make your dining event a success, from setting up menus to communicating regularly, whether it's about the number of guests and any special needs you might have," Jennifer said.
Come in this month to enjoy the new seasonal Pumpkin Spice Martini, made with RumChata, Grey Goose vodka, pumpkin syrup and Bailey's Irish Cream. This is a great complement to the new Dine and Discover menu option, which is dinner for two for $55. The dinner includes Bang Bang shrimp, two salads and two entrees off the feature list.
For reservations, book online or for parties of six or more call 336-724-4518.