Bevello, a unique women's boutique located in Thruway Center near Trader Joe's, has made its mark on Winston-Salem in just the few years it's been a part of our town. The story of bevello is an interesting one. Founded by Chan Namgong in Raleigh in 2009, he found such success at his first store that he knew he wanted to expand. He chose Winston-Salem because he knew it was a thriving area and a good place to bring awareness to the brand.
Bevello has been a part of Thruway Center since 2009, just a few months after the flagship Raleigh store opened. In 2013 the boutique moved to its current location by Trader Joe's, where it has become a destination for many Thruway Center shoppers.
We recently had a chance to talk with bevello's manager Kelly Mishler to get a sneak peek what to expect in this fall's fashion and an inside look at the boutique's role in Winston-Salem.
How would you characterize the style of bevello?
One thing that bevello always stands by is beautiful, effortless, every day fashion. For us, that means providing our clients with what they need to look great anywhere, whether its basics such as t-shirts and denim for running errands, more sophisticated looks for the office or items for dressier occasions such as weddings or a night out on the town. We have a wide range of clients, from age 12 to 80, and I think that the fact that so many different women shop here just shows that we truly do have something for everyone. We carry over 30 different brands, and we try to reflect different personalities and styles, rather than having just one set look.
What can people look for with fashion trends for this fall?
Millennial pink has been the "it" color for a couple of years, and it isn't going anywhere, so you'll definitely still see a lot of that this fall. Along with that, blush colors and pale pinks are real popular, as well as jewel tones. There seems to be a real feminine aspect to the fall clothes, with ruffles on the sleeves. And I'm seeing a lot of faux fur which will be nice for the colder temperatures. Most importantly, a lot of the new things we're getting in is very versatile, it's stuff you can mix and match, and wear out running errands or dress it up for a night out.
How do you cater to the Winston-Salem market?
I really enjoy working in retail, helping women come in and find something that makes them feel good about themselves. One thing you are guaranteed at bevello is personal service, from me and everyone who works here. We can help update your wardrobe, or help you find the one perfect item for a special occasion. We also provide feedback each week to our buyers about what our clients are looking for, including what's been really popular that we need to make sure we continue to carry to maybe some things our clients are asking for that we don't have and could look into getting.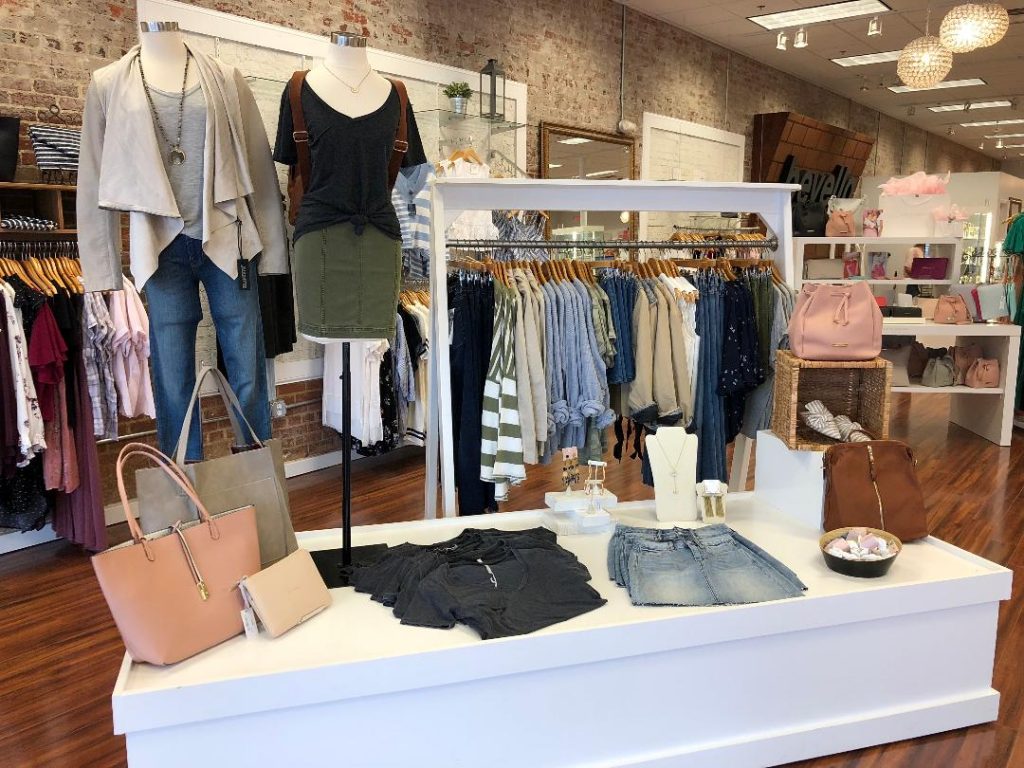 What are some brands that people will find at bevello?
We carry a wide range of brands to appeal to a variety of tastes and styles, including French Connection, Free People, Kendra Scott, Z Supply, Sheila Fajl and many others. We're also interested in working to promote local brands in our stores, as a way to network with the community and get our clients more unique items that have a local touch. One of those that has become very popular at our location is Once Upon a Stamp, a customizable jewelry line that is great for gifts and special occasions. It was created by two 15 year old twin sisters who live in Raleigh, and is just one example of how bevello works with young artists to help them make their own mark on the fashion industry.
How does bevello help support the community?
We're really proud to be a part of Thruway Center and the Winston-Salem community, and as part of that we feel it's important to give back to the community. Each year we partner with Brenner Children's Hospital to host two fashion shows, one in the spring and one in the fall. All proceeds from the ticket sales go to the hospital, and they also set up a booth in our store to help bring awareness of what they do to help children.
If you haven't visited bevello, make sure to check it out the next time you're at Thruway Center. The store offers a 15 percent discount for teachers, students, military, brides, Thruway Center employees, and even a discount on your birthday!