BE Shoes has been at Thruway Center since 2007, and in those few short years owner Bill Erickson and his team have made a big impact in Winston-Salem. The store is well-known as a place to come to get personal service, a great fit and exceptional shoes, all while supporting local business. Dawn Poole, store manager, shares a little about what makes BE Shoes unique.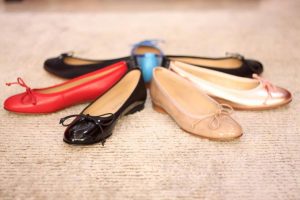 Q: How did BE Shoes come to be?
A: Our owner, Bill Erickson, has more than 40 years of experience in the shoe business. He started out overseeing a large chain of stores in Florida before he relocated to Winston-Salem. Here in Winston-Salem many people know him from his years at the Hush Puppies store at the mall, where he was very successful. He was the highest grossing Hush Puppies store in the nation for a number of years. In 2007 he bought out the shoe store in Thruway Center and turned it into BE Shoes, to give people in the area a place they could count on for comfortable, long-lasting, fashionable shoes.
Q: What is special about the Thruway location?
A: We love being a part of the community at Thruway Center. There are so many people who have been coming here to shop for generations, there's a real sense of community. Also, there are a lot of local merchants in Thruway Center that you don't find in other shopping centers or the mall, and people are excited to shop locally and support local business.
Q: What sets BE Shoes apart from the competition?
A: We pride ourselves on our customer service. Our staff is knowledgeable about how a shoe is supposed to fit, and will work with you to find just the right shoe. It also helps that I know our customers so that when I go to shows and order shoes I know the styles and types of shoes that our clientele will enjoy. I will shop with certain people and specific brands in mind. But I also keep an eye out for new styles so that we're able to offer shoes you won't find anywhere else in town.
Q: Why is it important to have a good fit when buying shoes?
A: Having shoes that fit is important for foot health. Not only is it more comfortable, but when shoes don't fit well you run the risk of problems such as bunions, blisters or even stress fractures. Also, the brands we sell are meant to last, and worn for a long time, so you want to make sure the shoes is comfortable. It's nice when you're paying for a really good pair of shoes to have an expert help you get the right fit. We will measure your feet to help get the right size, and also look at your gait and take into consideration anything you might be going through, such as recovering from surgery, to make sure you're pleased with the comfort of your shoes the minute you walk out our door.
Q: What are some of your more popular brands?
A: We sell a lot of nice shoes, with brands people recognize. Some of our top sellers are Naot, Dansko and Merrell. We have started offering a new brand that has become very popular, Spring Step. These shoes are very comfortable but also have great style, and that's something I feel is important. You want to be comfortable when you're on your feet all day, but don't want to sacrifice style for comfort.