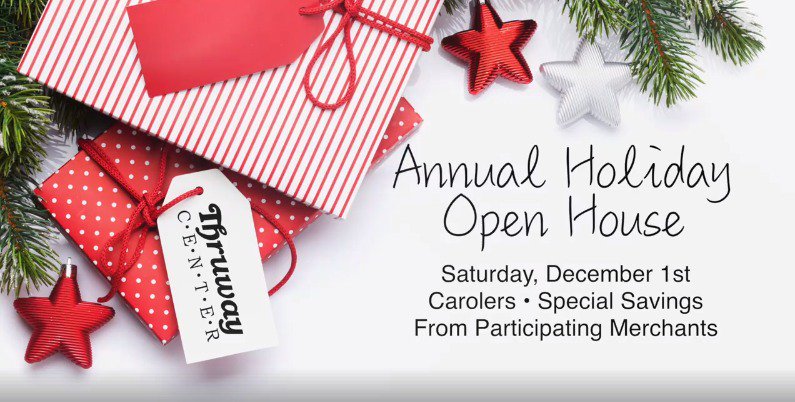 One of the best things about shopping at Thruway Center is experiencing first-hand the friendly people in each store, greeting you with a smile and ready to help you find the perfect gift for your loved ones. This Saturday, we're celebrating the community spirit found at Thruway Center with our annual Holiday Open House. We invite everyone to come out and enjoy a day of shopping with your friends and neighbors in a place where you avoid the maddening crowds and long lines of big-box stores.
Many stores participating in the open house are offering special deals and promotions such as coupons, gift cards with purchase, and even free gifts with purchase. Free samples at Kilwins and Dewey's Bakery entice you to purchase some of the wonderful treats to take home and share with your family, and refreshments such as hot chocolate and cookies in other stores help keep you going. You'll also find special activities such as rock painting at Toys & Co. to make your shipping trip more enjoyable.
There's a lot of talk these days about the draw of online shopping. But here at Thruway Center, we know the magic of experiencing the shopping adventure first hand. What better way to find the perfect, unique gift than by browsing through stores and getting first-hand information from knowledgeable staff? Even better, when you shop at Thruway Center you're supporting local businesses and keeping your money within the local economy.
Come out and enjoy the Thruway Center Open House. Walking along the sidewalks, seeing everyone excited and happy, is a sure way to get you in the holiday spirit!
Thruway Center Holiday Open House Merchant Offers
Dewey's Bakery…
A free personalized pen with any $25 personalization purchase.
All holiday towels, napkins, paper plates, and ornaments buy 3 get the 4th free.
A free Winston Salem teapot ornament with every purchase while supplies last.
The Loop…
Receive Two $5 Loop Bonus Cards when you purchase a $25 Loop Gift Card. Offer good from
now until Jan 1st.
Bevello…
20% off savings between 12-2 only. We will have light bites and drinks as well!
Great Outdoor Provision Company…
Our annual Habitat Day during which we donate 5% of Sales to Habitat for Humanity of Forsyth
County. Complementary signature gift wrapping that we always do for the holidays.
Southern Home and Kitchen…
• DOOR PRIZES, plus a free Christmas pot holder with every purchase (no minimum), a free Vietri Old St. Nick Baker ($62 value) with a $100+ purchase, a Lavender + Honey bakery pop up (10am-
1pm), and a Y'all Sauce free Demo & Tasting 2-4pm
CPR…
Storewide Buy One Get One Half Off… Half off applies to similar products of equal or lesser
value only and cannot be combined with other offers. See store for details.
BE Shoes…
20% off all in stock merchandise 12/1 only.
BohoBlu…
a free pair of earrings with purchases $25+, only one pair of earrings per customer
Kilwins…
offering free samples of our delicious hot chocolate that day, made with our own Classic
Shredded Chocolate.
Rolly's Baby Boutique…
hosting Photographer Emily Elrod for holiday photos. 10-2 appt only.
We will also have a sip n see with goodies to enjoy while shopping.
Hannoush Jewelers…
25% off Alex and Ani bracelets
Hanes Brands…
Friends and Family Event