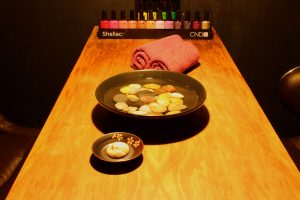 Tucked in a small storefront between Trader Joe's and Chopt is the entrance to VanDavis Aveda Salon. The sophisticated yet unassuming outward appearance of the salon tells only a small part of the story of what you experience as soon as you walk in the door. It's like opening up a whole new world of beauty from the minute you step off the sidewalk into the salon. Instantly greeted by smiling, welcoming faces, you are free to browse around and sample the full-line of Aveda beauty care supplies or make an appointment to pamper yourself in the full-service salon.
VanDavis has been a fixture of Thruway Center for almost two decades, when Cindy Davis partnered with Aveda and chose the location for her new salon. The clientele at Thruway, the high volume of traffic and the quality of the other shops at the center all helped make the location perfect for a full-service Aveda salon and spa. Cindy had already built a reputation in the area for running a salon with great hairstylists who could make you look and feel your best. The partnership with Aveda allowed the business to expand to include a full range of beauty and relaxation offerings, including makeovers, manicures and pedicures, various types of massages, facials and other skin treatments.
Today the Thruway Center location is run by Cindy's daughter Alexandra Stevens, who is proud to be carrying on the traditions of her family's business. "We wanted to create a relaxing, comforting place for people to come and get all of their beauty needs taken care of. We love making people feel their very best." Stevens says. "Just like you go to the dentist to have your teeth cleaned or the doctor for regular check ups, your skin and hair need to be taken care of too. We take time to educate our guests on the importance of good skin care. It might feel like a luxury to come in for a manicure and have your hands massaged, or sit for a relaxing facial, but it's good for your skin and for your mental health. It's not just a luxury, it's a necessity. It's about the whole experience, from the time you walk in and are greeted with a beverage until you check out with product recommendations to recreate your salon/spa experience at home."
Partnering with Aveda is also a key factor in the VanDavis philosophy. Not only does the partnership allow for educational opportunities for the technicians, it also means the salon uses and carries Aveda products exclusively. "We've always felt it was important to take care of the environment, and we appreciate Aveda's commitment to caring for the environment with their products as well," Alexandra says. Aveda sources all ingredients from organic, sustainable or renewable plant-based origins, uses biodegradable materials, is animal friendly in testing and environmentally friendly in processing, for example by using wind power in its manufacturing.
Beyond sourcing Aveda products, VanDavis plays an active role in the community. "We use a lot of water in our salon, so we felt it was appropriate to partner with the Yadkin Riverkeepers to help promote clean drinking water for our community," Stevens says. Working to raise funds and awareness for clean water is a mission of Aveda salons all over the world. The salon hosts fundraisers throughout the year for this organization. A recent fundraiser was held this month at Foothills Brewpub, called Bobs and Brews. Salon service providers were on hand to give haircuts, and there were t-shirts for sale and a raffle. All the money raised from the event went to support the efforts of the Yadkin Riverkeepers. "The Bobs and Brews event was so successful that we'll be having more of those. It was a lot of fun for everyone," Stevens said.
If you haven't already, take time to make use of the many services at Van Davis Salon. Whether you're pampering yourself or giving a gift to a friend or loved one, there's something for everyone at this relaxing getaway.