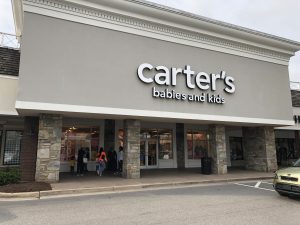 Generations of children have grown up wearing Carter's brand clothes. The classic designs in soft, durable materials are the perfect clothes for babies and kids. The Carter's store became a part of Thruway Center in 2011, and from the very beginning it was a great fit. Carter's is based on a heritage of quality and innovation, a perfect match for the tradition and style associated with Thruway Center. In a conversation with Carter's store manager Shelley McGill, we learned a little more about the Thruway Center location and how they serve customers here in Winston-Salem.
What makes Thruway Center a good fit for Carter's?
The Carter's store came to Thruway Center in 2011, and from the very beginning we knew it was a great location. We get a lot of foot traffic from people who come to Thruway to shop all the great stores. But we're also a destination point for a lot of people. Our customers love the fact that they can come here and park right in from of our door, for convenient shopping.
What makes Carter's unique?
I think it all starts with our quality. People know that our baby clothes are soft and well made, so they feel comfortable on your baby's skin and also hold up wash after wash. Carter's has always been on the forefront of new designs for babies and kids, like with the Handi-Cuff mittens on our sleepers that help protect newborns from scratching themselves in their sleep.
What can people find at the Thruway Center location?
We have a great selection of clothes for babies, toddlers and children all the way up to size 14. Our customers love shopping where they know that our clothes are cute and made for comfort and play. Our customers also appreciate that our styles are classic and age appropriate, even as children grow from babies to tweens.
Carter's also includes the brands Osh Kosh B'Gosh and Skip Hop, which includes baby gear such as dinnerware, diaper bags, swings and play gyms. We carry some of the smaller items in our store at Thruway Center, but we offer shopping across all the brands within our store, with free shipping available straight to the customer's home.
Come in today to see some of the latest fashions for kids. We're truly a hometown store, and we love helping our customers find just what they're looking for.