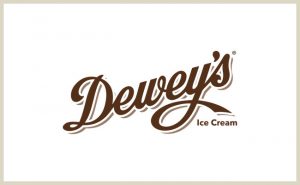 For many people in Winston-Salem and central North Carolina, a Moravian Sugar Cake from Dewey's Bakery is the centerpiece of the Christmas morning breakfast. And for Thruway Shopping Center, Dewey's Bakery is just as important to our traditions as their baked goods are to the traditions of families in Winston-Salem and throughout central North Carolina.
Dewey's Bakery was one of the first stores in Thruway Shopping Center when it held its grand opening in the 1955, and 60 years later the bakery is still thriving at this location. A shopping trip to Thruway isn't complete without stopping in Dewey's to get a cake square, and today many people are sharing these treats with their children just as their parents and grandparents did with them on special shopping trips.
Dewey's Bakery's own history starts years before Thruway Shopping Center opened. In 1930, in the midst of the Great Depression, the bakery opened its doors in Winston-Salem's downtown with the distinction of being the first all-electric bakery in the area. Even with the modern equipment, the owners of Dewey's Bakery were dedicated to the area's traditions, baking well-loved Moravian recipes in the homemade tradition.
The traditional Moravian Sugar Cake and the LoveFeast buns produced by the bakery continued the tradition of the Christmas traditions of the Moravians, who first settled this area in the 18th century. The Moravian church is still strong today in our area, but the traditional baked goods have become as much a part of other family's traditions as well, no matter what church you belong to.
The bakery's sugar cakes, cookies, and LoveFeast buns are synanomous with the holiday season for people in Winston-Salem. Moravian Sugar Cakes and cookies are often bought to send as gifts to friends and family in other parts of the country, and as the reputation of Dewey's Bakery has grown over the years, so has the company. In 1992 the company expanded to create Salem Baking Company, which focuses on national distribution of the cookies and other baked goods such as cheese straws and shortbread.
Just a few years ago, Dewey's Bakery acquired Blue Ridge Ice Cream, and now a stop into Dewey's Bakery can mean a scoop of Bakery Blends ice cream in addition to the cheese straws and cake squares.
Even with all the exciting new products, the fourth quarter remains the busiest for the bakers at Dewey's, and you'll find pop up stores all over the area to help meet the demand for these wonderful products. But the Dewey's Bakery at Thruway Center remains one of the cornerstones of the business. Stop by today to pick up some last minute gifts for loved ones on your list, or just to treat yourself after a long day of shopping.