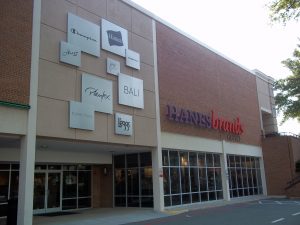 In 2008, Hanesbrands opened an outlet store in Thruway Center, bringing together two Winston-Salem legacies. Just as Thruway Center has long been a part of the culture of Winston-Salem, Hanes has been an integral part of the city of Winston-Salem as an employer and manufacturer of hosiery, socks, underwear and more recently athletic wear. It all started in 1901, when J.Wesley Hanes founded Shamrock Mills to produce men's hosiery. One year later Pleasant Hanes opened P.H. Hanes Knitting Company to make men's underwear. In 1914, Shamrock Mills changed its name to Hanes Hosiery and began making women's hosiery. Eventually the two combined, and through the years many other acquisitions were made, including L'Eggs, Bali, Maidenform, Sara Lee, and Champion.
In 2006, the company was reborn as Hanesbrands, with the logo you see today on the Thruway location. Creating a brand new company was a way to celebrate the legacy and quality of the Hanes brand while encompassing the multi-faceted manufacturing embraced by the company.
Today, the Hanesbrands store at Thruway Center provides a place for people to find the brands they love at great prices, with personalized customer service. "Winston-Salem is like Hanes town, so people here are really familiar with all of our brands, and our products are an important part of their lives," says Jowanda Sanders, store manager. "People know they can come here for great products, an outstanding clearance selection, and everyday promotions."
With more than 23,000 square feet of space, the Hanesbrands store at Thruway Center has plenty of room for a large variety of products. "We have a large staff of more than 30 team members, so you know you will get great service when you come to our store," Sanders says.
From athletic gear and comfortable socks to pantyhose and lingerie, the Hanesbrands store has everything you need for comfort and style on a daily basis. One thing the store is especially known for is its wide selection of bras from many different well-known brands, and the personalized, free bra fittings customers receive from trained associates. "We want to make sure you're happy with what you buy, and because of the special attention we give customers, we find many people keep coming back to shop here," Sanders says.