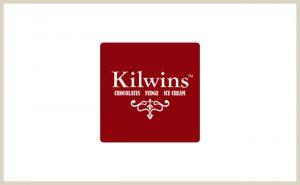 David and Renee Butner were looking for a new business venture at the same time as Kilwins in Thruway Center was looking for a new owner, and so far it's been a perfect match. "We took over the store at the beginning of April, and I just love it," Renee says. "I've worked in retail, so I had some experience with customer service, but it's just so easy here. Everyone is happy to be at this store."
It's hard not to be happy when you walk into Kilwins and you're immediately greeted by smiling faces and the wonderful smell of chocolate. Kilwins is known for both its chocolate and its ice cream, a combination of products that both have a well-earned reputation for quality and excellence.
Everything at Kilwins is handcrafted, and quality is a top priority. It all started in 1947 with the chocolates, and still today the rich truffles and butter creams are personally marked by hand with an identifying mark.
Some things are made at Kilwin's headquarters in Michigan, but the Butner's and their employees are busy every day making handcrafted items right in the Thruway Center store. The fudge, caramels, brittle and popcorns are all made in-house. As are the waffle cones, whose sweet smell wafts up to greet you once you open the door.
The company added ice cream to the product line in 1985, and just like the chocolates, the ice cream is held to high standards, using only fresh milk and cream and mixed in small batches. Kilwins' specialty candies are mixed in with the ice cream to make decadent flavors like Kilwins Tracks, which includes truffles.
"It's hard to say what is most popular, because everything we sell people enjoy, but definitely during the summer months our ice cream is what people ask for," Renee says. Kilwins is known for its large scoops of ice cream that satisfy you on a hot, humid North Carolina day. The waffle cones made fresh daily are a big hit, but so are the milkshakes. "We can personalize milkshakes with any flavor of our ice cream" Renee says.
The emphasis on quality products and a focus on tradition and old-fashioned values is part of what helps make the Kilwins brand so special, and also what makes it a good fit for Thruway Center. "We knew this was a good location for our business because Thruway Center is steeped in tradition while at the same time changing and adapting to grow and succeed in the current retail climate," Renee says.
Next time you're shopping at Thruway Center, or if you just want a special treat, head over to Kilwins for a decadent dessert. Popular flavors such as Toasted Coconut and Sea Salt Caramel are always on-hand, and this summer David and Renee are excited to introduce a new flavor to the mix, Chocolate Sea Salt Caramel.