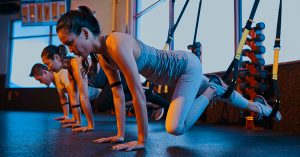 One of the best qualities of Thruway Center is the sense of community that exudes from this group of merchants. For more than 50 years, people in Winston-Salem have been coming to Thruway Center to shop, have meals with family, eat ice cream with friends and enjoy an atmosphere where everyone is welcome. That sense of community made Thruway Center a perfect match for Orangetheory, a premier fitness facility offering science-backed high intensity group training workouts, where the motto is "it's not a competition, it's a community."
Orangetheory: An Individual Approach in a Global Community
Each time you walk through the doors of the Orangetheory fitness facility, you're joining up with thousands of other people who are doing the exact same workout that day all over the world. The Winston-Salem location is just one of more than 1,000 locations worldwide, all using workouts designed by a team of exercise scientists at the corporate office in Florida. "Our team creates 90 workouts each month that work on different muscles groups and are designed to improve endurance, power and strength," says Ashley Torres, marketing manager, Orangetheory Fitness. "Those are then rolled out to our members, and each facility has the same schedule, anywhere you go around the world."
The Orangetheory approach to fitness centers around high intensity group training workouts, but it comes with an individualized approach. It all starts with a personal trainer who assesses your fitness level and works with you to create your program. "Our personal trainers are like really great coaches, they get to know you and work with you to motivate you to better health," Ashley says.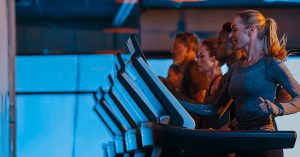 Once you have your plan in place, you'll enjoy coming to work out with others who have the same goals of living a healthier, more fit life. "Working together provides more motivation and encouragement than just spending time by yourself on a treadmill," Ashley says.
Becoming Part of the Winston-Salem Community
The community-driving approach at Orangetheory extends to more than just group workout sessions. Getting involved in the greater community is an important part of the company's philosophy. In the few short months Orangetheory has been at Thruway Center, they've already been a part of races including the Marine Mud Run and the Beat the Heat 5K. They've also participated in community workouts such as the Glow in the Dark workout with Kaleidium and World Dance Day, a fun celebration of disco on the streets of downtown Winston-Salem.
Stop by the facility next time you're at Thruway Center to take part in a free class and learn more about this new approach to fitness.