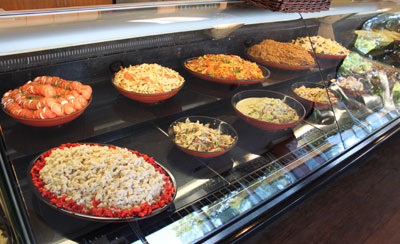 For more than 20 years, The Carving Board has been a mainstay of Thruway Center. With a prime location right in the middle of the center, it's a great place to take a break and fuel up to continue shopping. The restaurant is family-owned and operated, with Krista Ackert and her sister Anita Wright carrying on the tradition started by their mother when she moved to North Carolina from New York.
"Thruway Center was just the perfect location for our restaurant," Ackert said. "We get a lot of traffic through the day from both shoppers and business people around the area, and we're also convenient for catering to businesses or for people to come in and take home food for a family dinner or small get together."
At The Carving Board, everything is made fresh daily. When you order a sandwich, you are able to watch the deft workers behind the counter carve your turkey fresh off the roasted turkey breast and pile it on a sandwich with fresh ingredients. There's no need to settle for common potato chips, there's a full display of delicious salads to choose from to join the plate with your sandwich, or you can even make a meal of the salads. "One of our most popular items right now is the spicy sesame noodles," Ackert said. There's also soup to warm you up on a cold day, with choices changing daily.
It's hard to resist dessert at The Carving Board, where lemon bars, carrot cake and triple fudge brownies are all displayed beautifully in the case. They definitely catch your eye while you're watching them prepare your meal right in front of you.
Many people come back regularly for a menu favorite, but it's also fun to pay multiple visits to The Carving Board to see what's new on the menu. Daily lunch specials and weekly dinner menu help keep things fresh and new even for the most regular customer.