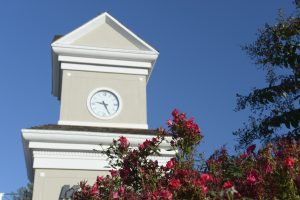 Have you ever wondered where Thruway Center got its name? Long-time residents of Winston-Salem might be able recall the early days, but for many shoppers today, the name Thruway is taken for granted, when its story is really unique. Most people associate the name Thruway Center with quality products, friendly merchants and convenient shopping, but the name itself means even more than that.
Imagine the landscape of Winston-Salem in the early 1950s. The bustling Trade Street was the center of activity, with Reynolds Tobacco and Wachovia Bank fueling the growth of the city.
Just a few miles away, Stratford Road was cow pastures and farms. But when President Dwight Eisenhower decided to become the champion for the interstate system that had been talked about for decades, the landscape of Winston-Salem was soon going to change.
Today we take for granted the Interstate system that connects our cities and states, which makes it easy to commute to work, drive into the city for a night out or travel across the state to visit family. But in the early 1950s and before, people traveled on rural highways and through towns, with tractors, stop lights and city traffic slowing things down.
The Eisenhower system of interstates, or thruways as they were often called, would help people avoid the traffic. While envisioned as a national defense system, the thruways ended up changing our nation's retail landscape, and Winston-Salem was an area where that happened.
Two area business men, Ray Messick, owner of Food Fair Supermarkets, and Earl Slick, a developer, became interested in Eisenhower's "thruways" and saw opportunity. They teamed up with to form Merchants Development Company, and bought a 14-acre farm on South Stratford road that butted up against the future site of the thruway, or what is now known as Business 40.
Thruway Center officially opened for business in 1955, drawing traffic from downtown Winston-Salem and surrounding areas through Stratford Road and Knollwood Street. Just a few years later the expressway opened up, making it easy for people from surrounding communities of Lewisville, Clemmons, and Statesville to come shopping.
The location of Thruway Center shows a lot of foresight on the part of the developers. Not only were they smart in building near a proposed expressway, but they planned for many entrances and plenty of parking. The original shopping center was touted as a one-stop shopping area, with 13 businesses and parking for 1,200 cars. Of course, Messick's Food Fair Supermarket was one of the original stores, as well as Woolworth's, Eckerd Drug, Laun-Dry-Clean, Artistic Flowers, Hugh Butler, Inc., McPhail's Gift Shop, Tiny Town, Marken's children's wear, William Lamberti's beauty salon, The Buena Vista Shop for women's clothing, and Stanley Shoes. Dewey's Bake Shop was also an original merchant is the only one of this group to remain in Thruway Center today.
Over the years, Thruway Center has seen a lot of change. For a while a car dealer made its home there, for many years WTOB broadcasted from there, and merchants and retailers have come and gone. But the original goal of Thruway Center remains the same, which is to provide convenient, one-stop shopping for people of Winston-Salem and surrounding areas.