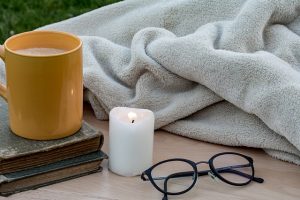 It might be cold outside, but it's always warm inside the shops and restaurants at Thruway Center. Whether you're looking for great deals on winter styles, Valentine's Day surprises for your friends and family or spending time with friends at one of the center's many places for great food, it's always a great time of year to come spend the day at Thruway Center.
There are also plenty of ways to warm up while you're shopping and walking throughout Thruway Center. Here are a few ways to keep your body and spirits warm and enjoy a full day of winter shopping!
Warm up your body and find nourishment to keep on shopping with a bowl of soup. You can enjoy one of the creative soups of the day at The Carving Board, or try the signature tomato basil with a gooey grilled cheese sandwich at The Loop.

Stop in for a hot cup of coffee and a cake square at Dewey's. And don't forget to take a sugar cake home for your next morning's breakfast!

Enjoy a few spicy tacos or hot salsa with a quick snack or meal at Moe's.

Take some time to pamper yourself, warming your body while reviving your soul with a hot stone massage at Van Davis Salon or Hand & Stone Massage and Facial Spa.
No matter what the weather, getting what you need at Thruway Center is always convenient. We invite you to spend the day walking through the shops, enjoying a cup of coffee and a relaxing day with friends. But if you need to run in and out quickly,, rest assured there are plenty of convenient parking spots to make sure you're not out in the cold for long.
Rain or shine, cold or warm, Thruway Center provides the perfect shopping and dining experience.